Security audit done the same old way?
Still doing security audit and compliance assessments the same old way?
The definition of insanity is doing something over and over again and expecting a different result. Data breaches are occurring at an alarming and escalating rate despite the traditional assessment methodology and  tools. It's time to shake up and wake up the cyber security industry with Continuum GRC; the innovators and cyber security agitators who bring the IT Audit Machine to you.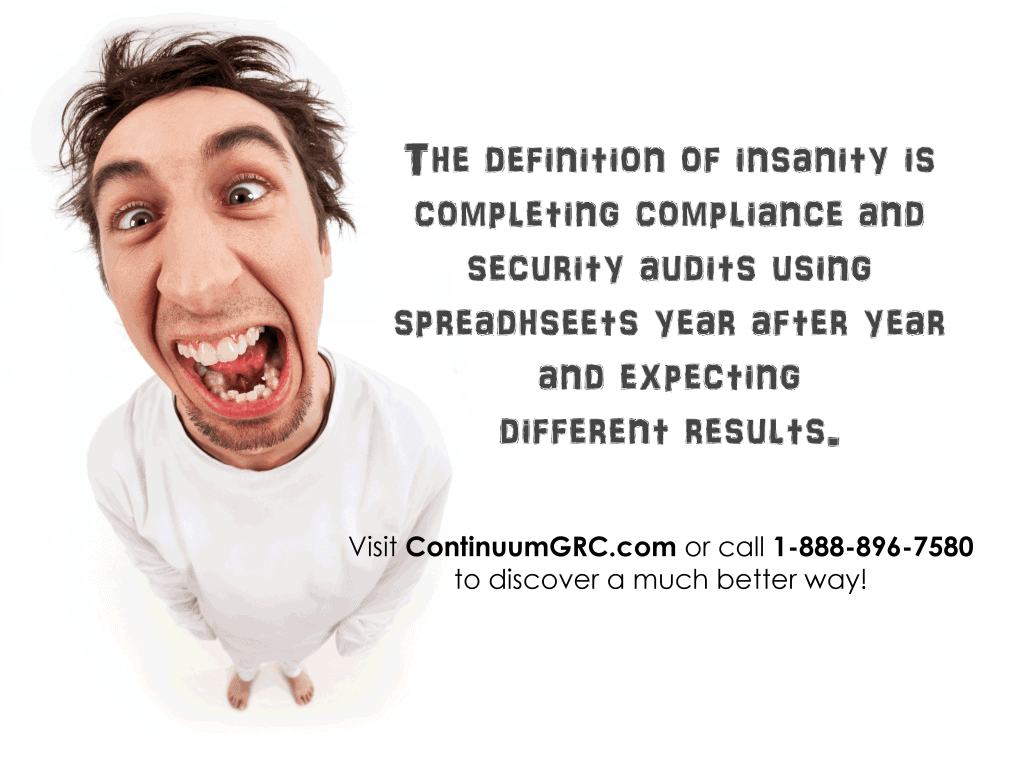 Why pay for your current security audit third-party providers overhead and antiquated assessment processes when you can significantly reduce your expenses and increase your profit margins simply by using our cutting-edge GRC tools? Work smarter, not harder by using our proactive industry changing security audit GRC software solutions available only from Continuum GRC.
Our security audit GRC solutions break industry paradigms that have plagued both client organizations and service providers alike. We'd like to show you how we have taken our real-world expertise and created security audit GRC solutions that are being touted as game-changing technology. Call Continuum GRC software solutions today at 1-888-896-7580 and schedule a demonstration.
Our GRC software solutions make you a whopping 180% faster on average with GRC assessments and reporting processes. Our intelligently designed GRC tools get you from zero to compliance in record time by eliminating the audit anarchy you are accustomed to. There is a superior solution to this old-school problem and Continuum GRC provides it. Call 1-888-896-7580 today.
Contact us to learn more about why since our founding in 2000, the professionals at Continuum GRC, a proud veteran owned business, has been completely committed to you and your business success. Regardless of whether you represent the private sector or the public sector, we stand ready to partner with your organizations. Our competition may want to keep you and your employees in the dark where security, risk, privacy and governance are concerned hoping to conceal their methodology and expertise. We don't prescribe to that philosophy. We believe the best approach is transparent and built on a partnership developed on trust and credibility that creates sustainability for your organization. Contact us to learn more.
Continuum GRC's primary purpose is to help organizations attain, maintain, and demonstrate compliance and information security excellence – in any jurisdiction. Continuum GRC specializes in IT security, risk, privacy, governance, cyberspace law and compliance leadership solutions and is fully dedicated to global success in these disciplines. Contact us to find out more!