TakeDownCon 2015 Keynote Address
TakeDownCon 2015 Keynote Address
The New Social Security: When Social Media Meets Social Engineering.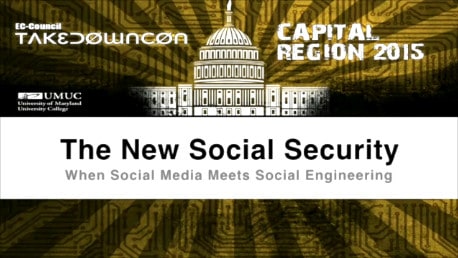 The convergence is upon us all; this influx of technology intermingled with information infused now in every possible facet of our business and personal lives. We live in the presence of infinite possibilities through technology. Business is being propelled into new trajectories never before possible. Out social spheres and human interpersonal interactions have all been augmented by the ever accelerating technological reality. While our brave new media world is evolving and pushing forward, there is a common denominator that is struggling to keep up. The singular chink in our armor; the weak link in our proverbial chain is much to our collective chagrin is the Human Element.
This reality is not slowing down. On the contrary, it's moving exponentially faster. Our challenge as business leaders and individuals; as humans in general, is to intelligently manage this paradigm shift as our technological singularity enters its event horizon.
Here at TakedownCon, together we will explore a particular facet of our technological present, specifically our social sphere, and how as technology leaders we can work toward intelligent management. Our business success and our personal preservation depend on it.
We are honored that our CEO Michael Peters was invited to EC Counsel's TakeDownCon as keynote speaker for the 2015 event. This year's theme is "Building the Cyber Briefcase: From Binary to the Boardroom". Discussions will cover the various tools, skills, and experience a CISO needs to build and run a successful information security program.
TakeDownCon brings together information security researchers and technical experts from corporate to underground industries, to a unique "Ethical Hacking" conference. In two days, they will present and debate the latest security threats, disclose current vulnerabilities, and share information crucial to the technical profession.
Say hello to Michael Peters, William Ochs and Jessica Parra-Johnson from Lazarus Alliance if you are attending!