The impacts of Reactive -vs- Proactive cyber security is very real!
Reactive -vs- Proactive; is there really a benefit to business? After correlating years worth of industry data the business and consumer impacts are quite clear but illustrating this information is difficult. We have created this infographic to help you make the business case for being proactive about security. After all … Lazarus Alliance is Proactive Cyber Security®!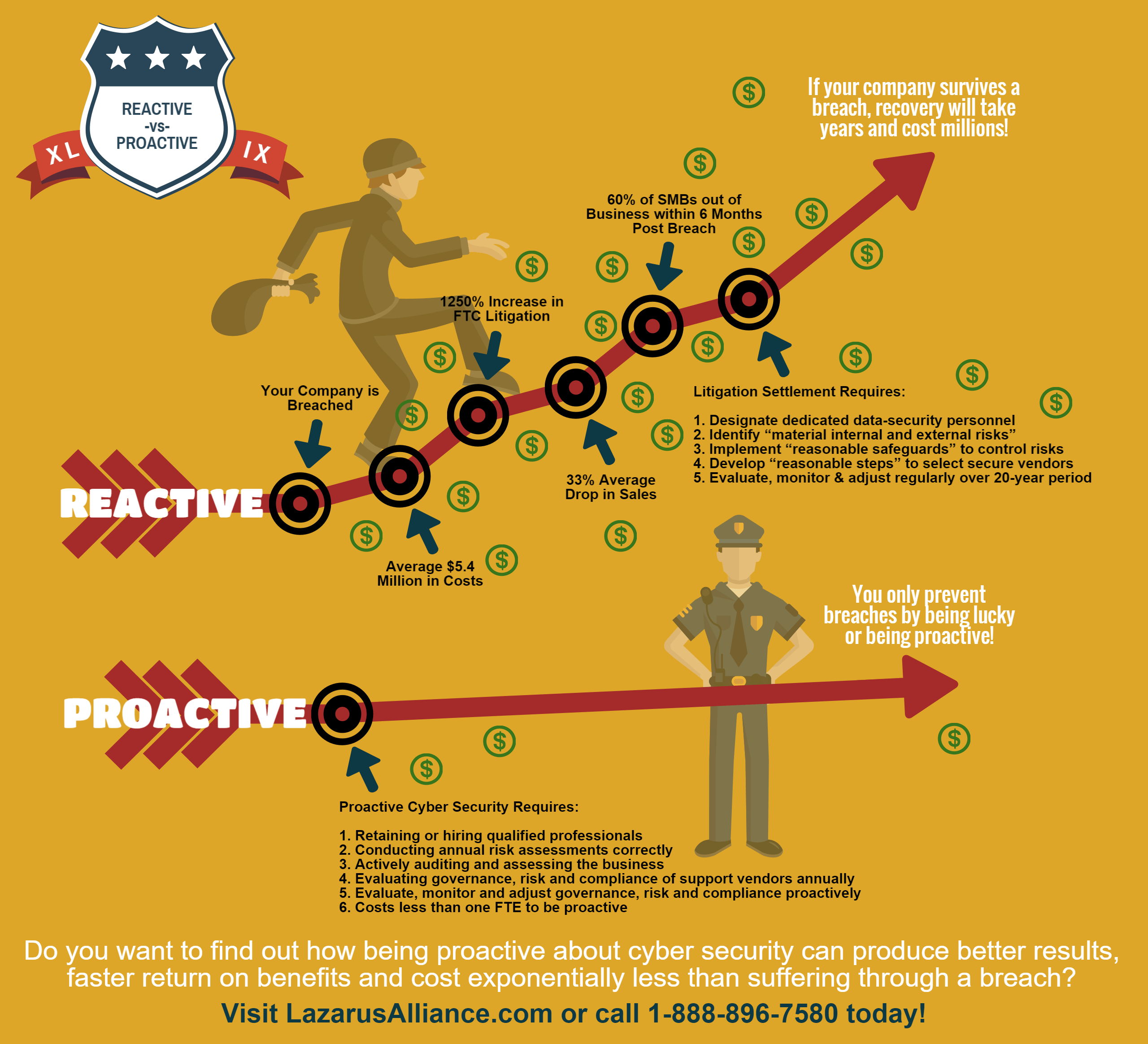 What should be painfully obvious is that by taking proactive steps you avoid about 96% of all breach potential. While there is no such thing as a perfect solution you will be significantly less susceptible to cyber crime and not as likely to be in a reactive response.
While holistic governance in security, privacy, risk and cyber-law is increasingly complex and you are charged with delivering GRC guidance to your organization that they understand. The security industry has been conditioned to accept the "inevitable breach" and engage a reactive incident response plan. We have changed that paradigm in part with ITAM. The IT Audit Machine gives you everything you need to succeed. The Americas, Europe, Asia, MENA or wherever strong IT security policies and holistic GRC is needed and we deliver the foundation your company needs.
Why should only big business be able to afford world class technology security executive representation? You retain attorneys and accountants to perform complex tasks and represent you; retain technology security executive services and subject matter experts just the same!
Lazarus Alliance brings internationally recognized expert technology security executives to work for you. Your Personal CXO ® is the global hot-spot for retaining the services of the best and brightest subject matter experts in Cyberspace Law, IT Security and operations, IT Risk and Governance, Compliance, Policy and more!
Our clients range range from start-ups on up to multinational corporations from all business sectors from all around the world. We can help your organization too! If your company depends on technology for the success of your business; and what company does not in our technically connected global business community? You need qualified proactive cyber security assistance to implement effective controls and countermeasures.
Lazarus Alliance Cybervisors® are here to help!
The alternative may be that your company is on the next industry breach report and you are stepping down from your position because you could have done more to protect your company.